VoIP/SIP client (softphone) for Windows
When looking for a SIP and media stack I've spotted libre/librem/baresip from creytiv.com. It has I believe pretty unique combination of simplicity, completeness and most of all permissive BSD-style license allowing commercial and closed-source derivatives.
Console application
Minimal subset (no video support, no codecs besides G.711, just the essentials for voice calls) of libre/librem/baresip as a console application built with Turbo C++ 2006 Explorer. If you're not a Borland products user stay with original source code that can be used with i.e. VC++ 2003.
bsip_tc_20111215.7z - source only
GUI SIP client
SIP client with graphical user interface built upon re/rem/baresip stack. Feature set is very limited, but whole project is self-contained and easy to compile - no external dependencies. GUI is using simplest possible model: single registration account and single call at a time, but application is portable and using configuration from a local JSON file, so many instances can be run simultaneously with different configurations. Each instance takes ~1.8 MB of disc space (including wave files with signals such as ringing).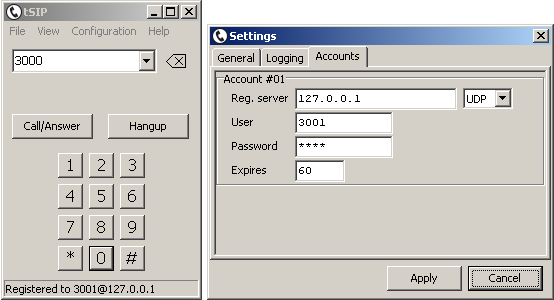 Initial release: Version 0.1
tSIP_0_1_src.7z (435 kB)
2012.01.11 Minor fixes
tSIP_0_1_1_bin.7z
tSIP_0_1_1_src.7z

lib project dependencies handled in a better way (#pragma link "re.lib", library search directory changed depending on current build configuration),
FIXED: possible Access Violation errors on quit or restart,
added missing handling of transport and expires configuration parameters,
ignoring incorrect stale=FALSE (treating always as stale=TRUE) parameter put by some other device with SIP/401 message that was causing periodical loss of registration; hopefully this would be only temporary change.

2012.01.16 tSIP_0_1_2_bin.7z, tSIP_0_1_2_src.7z

re/rem/baresip sources updated to version 0.4,
winwave.c: fix for small, non-recurrent memleak,
added baresip portaudio module and necessary PortAudio v19/DirectSound statically linked library; PortAudio is now default sound backend, WaveIn/WaveOut is left as an alternative,
removed unnecessary parts from displayed call URI.

2012.01.28 tSIP_0_1_3_bin.7z, tSIP_0_1_3_src.7z

added baresip speex module and required statically linked library,
added transmitted and received SIP message logging option,
ua_find(): trying to match incoming requests using AOR if matching by Contact fails; matching by Contact only may cause interoperability problems (see Nokia: Problems with incoming VoIP 3.x calls).

2012.04.28 tSIP_0_1_4_bin.7z, tSIP_0_1_4_src.7z

re/rem/baresip sources updated to version 0.4.1,
GUI: added auth username to configuration,
GUI: fixed problem with temporary freezing when opening log window after long work time.

2012.05.10 tSIP_0_1_5_bin.7z, tSIP_0_1_5_src.7z

added baresip gsm module and statically linked gsm library,
added module for G.726-32 codec and G.726 code from older SpanDSP version (copyright Sun Microsystems and Steve Underwood, public domain),
added codec set configuration (enable/disable particular codecs).

2012.07.22 tSIP_0_1_6_bin.7z, tSIP_0_1_6_src.7z

added local address setting - equivalent of baresip "sip_listen", may be required when using on machines with more than one network interface to specify interface to bind to.

2013.11.20 tSIP_0_1_7_bin.7z, tSIP_0_1_7_src.7z

application version that handles multiple accounts and multiple calls was moved to separate branch (mtSIP),
updated re (0.4.5), rem (0.4.4), baresip (0.4.6) sources,
log window: added "Save to file" to context menu and "Log to file" checkbox (duplicating settings),
added re-register button (forcing immediate re-registration),
eliminated GUI freezing when application was closing during registration that would fail due to no response from 2nd party,
auto-answer with specified SIP code,
added (very crude) call history,
added redial button,
making call: assumed that if sip: prefix is present uri domain does not have to be added (previously: unable to call i.e. sip:192.168.1.11 uri, call function was assuming that domain was not present if "@" in uri was not present).

2014.03.19 tSIP_0_1_8_bin.7z, tSIP_0_1_8_src.7z


moved baresip code into separate static library (mostly to speed up often unnecessarly forced by TC++ whole project rebuilds),
dialpad: added A, B, C, D DTMFs,
added Flash button (sent as DTMF event),
added Hold function,
added blind transfer function.

2014.05.27 tSIP_0_1_9_bin.7z, tSIP_0_1_9_src.7z


added Speed Dial / BLF panel (application/dialog-info+xml subscription).

2014.06.01 tSIP_0_1_10_bin.7z, tSIP_0_1_10_src.7z

FIXED: account configuration: entering password is not required,
FIXED: FLASH is no longer displayed as 'R' when dialing,
FIXED: inconsistent application state when UA was restarted (configuration changed) during a call,
making call with [Enter] in number edit field,
auto-repetition for "backspace" button.

2014.08.07 tSIP_0_1_11_bin.7z, tSIP_0_1_11_src.7z
Added Accept header to SUBSCRIBE message. Although it shouldn't be required (see RFC6665, 3.1.3), Asterisk 11.9.0 is dropping these type of message with error: WARNING[14547]: chan_sip.c:27847 handle_request_subscribe: SUBSCRIBE failure: no Accept header: pvt: stateid: -1, laststate: 0, dialogver: 0, subscribecont: '', subscribeuri: ''. Thanks to Barry Mercer for reporting.