Dell D600 review
I've been using quite intensively Dell D600 laptop for almost 5 years. This unit was manufactured in 2003 (I'm not it's first user) and equipped with Pentium M 1.60 GHz (Banias) and Broadcom BCM4306 wireless.
Mechanical durability
Advertised magnesium alloy chassis does not seem so rigid on the first look - at least comparing to old IBM "T" series. Most of the parts are made of plastic, only magnesium alloy parts are display cover (but it does not look sturdy - it is easy to bend a little) and frame, but not the back of front of the cover. Fragment of the frame is visible when battery is removed or under memory bay cover.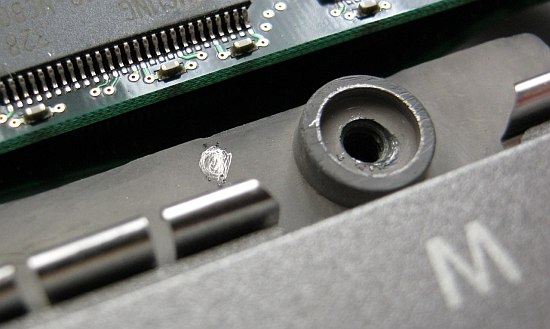 Despite that laptop survived 8 years (including few drop accidents) without any serious damage or wear signs. Few minor problems revealed:
slightly loosened hinges (probably caused by vibrations from using laptop on a train),
problems with connection between multimedia panel (volume control and microphone above keyboard) and mainboard, probably caused by bad design - panel is secured with only single screw, so connector is under mechanical stress that accelerates wearing; to check for this defect try to push this panel while testing keys and microphone,
wearing of palm rest coating that changes its color and texture.
Software problems
occasional problem with resuming from suspend to RAM (S4); it seems to be partially but not fully fixed with BIOS A15/A16 release (I would definitely recommend upgrade),
so called "Dell Wireless Utility" - wireless connection manager - seems to have huge memory leak causing problems when laptop is running for days; fortunately it can be disabled and standard windows utility can be used instead; another advantage of windows utility is also faster reconnect after resuming from suspend state.
Battery
Real capacity of battery has dropped to about one third allowing for 1 hour of work with wifi enabled. I believe this is still quite good result caused by the fact that laptop worked without battery most of the time. Although more annoying than capacity drop is battery miscalibration resulting in incorrect (higher than actual) remaining work time and going to hibernation without warning. Unfortunately haven't found any calibration utility.
Undervoltage is worth a try. Settings I use 0.748V at 6x multiplier up to 1.244V at 16x multiplier. I've tried NHC and RightMark CPU Clock Utility. NHC seems to have reacher feature set, but I would recommend RightMark for the simple reason that it is not using .net platform. It loads faster (noticeable at cold boot) and consumes less RAM - why waste resources for application that basically sits in system tray?
Other quirks
When infrared port is enabled it periodically emits high-frequency noises, not loud but very annoying. It could be mistaken for HDD problem because of its near location. I haven't seen this problem under linux, most likely noises are emitted only OS/software is searching for nearby devices. On windows noises disappear when device is turned off using device manager.
Beware of WLAN driver in USA version. Usage of 802.11 channels 12 and 13 is restricted in USA and if you'd install driver version intended for USA (R143355 instead of R143352) you won't see access points working on these channels in WiFi monitor - might be difficult to diagnose.
Radiator cleaning
If it ain't broke don't fix it. From my experience cleaning it every 2-3 years should be enough. Signs that radiator is stuffed with dust:
low air flow out of exhaust - even when ventilator is running at low speed air flow should be detectable,
increased temperature at the top left corner,
CPU thermal throttling, i.e. temporary slow downs when playing games, especially CPU intesive ones.
Remove plastic panel above the keyboard. Start with releasing latch at the right side using flat screwdriver. Cover screwdriver with i.e. paper to avoid accidental scratches. After this there are three more latches that should be easy to release just by pulling plastic panel up.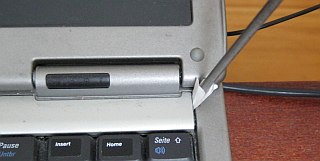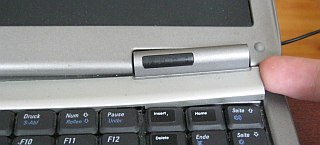 Remove keyboard.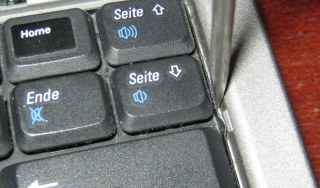 Clean area at the ventilator.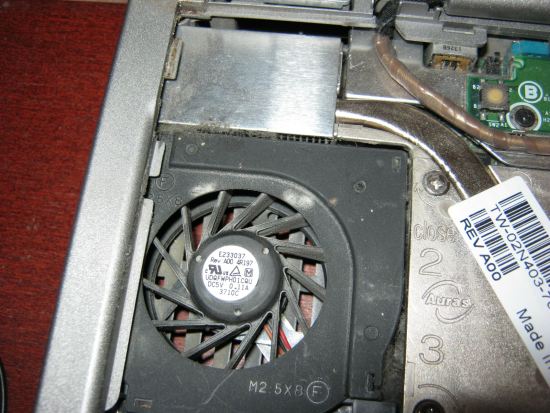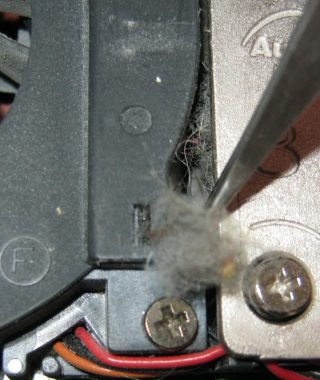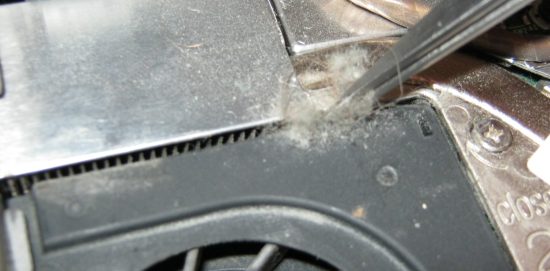 Check by looking against the light at the back.